Fully enjoy and experience the best of the best in a beautiful atmosphere.
The highest quality ingredients are abundantly used and our Western style dishes are prepared with even more time and effort in order to serve you the best of the best.
The rich flavors and beautiful atmosphere that you will experience here cannot be found anywhere else.
---
The French Kaiseki dishes produced by Chef Fujimoto are also available at Yuan Sanbo by reservation.

Chef's selection
A taste of luxury
Fried Tiger Prawns
---
¥4,300(+tax)
Extra large and sumptuous deep fried prawns. The rich flavor of our special demi-glace sauce carefully prepared over 3 weeks go well with the deep fried tiger prawns.
Main Menu
Our highly recommended beef tail stew is made of the precious Wagyu tail that only produces about 3-5 servings for each cattle. The tail is boiled for 8 hours and served with our demi-glace sauce prepared over 3 weeks.
We have 9 main menus with meat and seafood dishes that are carefully selected and prepared with much time and effort.
Side Menu
You can enjoy highly rated ingredients such as cold roast of Tochigi beef and lobster bisque as an appetizer.
Dessert Menu
Carefully prepared premium sweets including our homemade pudding and cheesecakes as well as selected drinks. An original fresh grape juice from Meiji-no-Yakata is also available.
Course Menu
Sit back, relax and savor the exquisite flavors with our "PRIX FINE MENU" which includes both our meat and seafood dishes or the "LUNCH PRIX FINE" for a lighter meal. We also have a sumptuous rice omelet which is different from the one served at the main restaurant on our main menu.
"The mission of a chef specializing in Western style dishes is not to seek out the most expensive ingredients but to spend the extra time and extra effort to create the most outstanding dishes."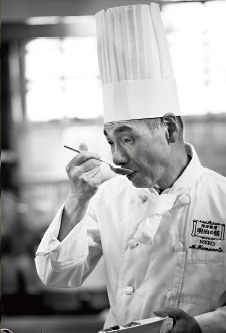 Minoru Yamamoto, Executive Chef
<Biography>
| | |
| --- | --- |
| 1948 | Born in Nikko City |
| 1967 | Graduated from Nikko High School. Joined Kanaya Hotel |
| 1971 | Joined Nikko Lakeside Hotel |
| 1977 | Joined Nikko Sougyou Co., Ltd. Head chef, Meiji-no-Yakata |
| 1979 | Studied Shojin cuisine under Soken Shishikura, head of Yojo-Shinryu |
| 1985 | Director, Executive Chef |
| 2003 | President, Tochigi Branch, All Japan Chefs Association |
| 2004 | Received the Minister of Health, Labor, and Welfare Award |