Meiji-no-Yakata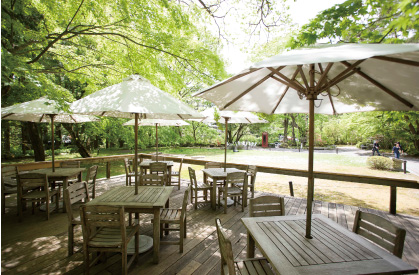 "Meiji-no-Yakata" is a restaurant located within the "Nikko Fudouen" – an ancient site with a 1,200 year history where the Fujimoto Monastery belonging to the Nikkosan Rinou Temple used to stand. As you wander through the gardens, the stone statues including the "Fudoumyo-o deity will give you a glimpse of those ancient times.
During the Meiji Restoration period in the mid-18th century, Japan was in transition towards becoming a "modern nation" and it was during this time that many of the ancient monasteries were demolished. Nikko became a popular summer resort area among Westerners living in Japan and in particular, many Americans built cottages within Nikko's Sannai region. One of these Americans was F.W. Horn, a merchant trader who introduced the first phonograph to Japan.
The stone cottage that F.W. Horn built is still in its original condition both inside and outside and now houses the "Meiji-no-Yakata" restaurant. The restaurant serves a "western style" Japanese cuisine developed back in the Meiji era that is still being enjoyed by many people today.
Nikko's 1,200 year history, culture and nature can all be experienced here at "Meiji-no-Yakata".
We warmly await your visit.
Gyoshintei(堯心亭)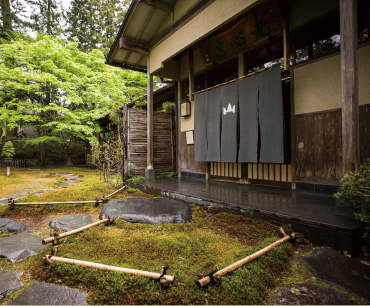 Gyoshintei(堯心亭)
"Shojin Ryori" is a vegetarian cuisine originally developed by Buddhist monks who were strictly prohibited from eating food containing animal products.
Meals are cooked using only the freshest seasonal fruits and vegetables and completely natural non-animal ingredients. Even the Japanese soup stock traditionally made out of fish, does not contain any fish or animal ingredients.
With a history of over 1,000 years, Shojin Ryori is believed to be the origin of "washoku" (traditional Japanese cuisine) that was officially included on the UNESCO Intangible Cultural Heritage list in 2014.
At "Gyoshin-tei", you will be able to savor the culinary delicacies of an authentic "Shojin Ryori" cuisine and through it, truly experience the ancient history, culture and beautiful nature of Nikko. We warmly await your visit to "Gyoshin-tei".

By Train
● The nearest rail stations are "JR Nikko" station and "Tobu Nikko" station.
From Utsunomiya Station to JR Nikko Station … Approx. 40min.
From Asakusa Station. to Tobu Nikko Station … Approx. 1h40 min.
(using Kegon Limited Express.)
From Shinjuku Station to JR Nikko Station … Approx. 1h 56min.

● Take "Tobu bus" World heritage loop bus from JR Nikko St.

or Tobu Nikko St.
and get off at the "Hotel Seikoen" bus stop. It is the oposite side of the bus stop.
By Car
It takes about 30 minutes from Utsunomiya interchange of the Tohoku Expressway using the Nikko Utsunomiya Toll Road .

* There is a parking lot, 2 minutes by foot from Toshogu Shrine and Rin-noji Temple. (80 spaces are available.)